UNIVERSAL FORM BUILDER
WEBFORMS PRO - CUSTOM FORM BUILDER EXTENSION FOR MAGENTO 2 Magento 2.3, 2.4
Community, Enterprise, Cloud
Need to build a custom form for your Magento 2 store?
Be it a simple sidebar contacts form or a 50 questions survey WebForms Pro can handle it with ease!
Contacts Form Survey Request For Quote Rma Form Testimonials Form Follow-up Form Warranty Registration Order Form Multi-step Form Popup Form Sidebar Form Rest Api Graphql
Design custom form you need
Create attractive functional web forms.
Ultimate form builder
Create any custom form using multiple input types within your Magento 2 admin panel in minutes. Deep design configuration requires no coding even for complex forms!
Process submissions
Plenty of operations to perform with collected submissions: save in database, filter, sort, email, reply, approve or publish. All data can be exported to CSV and XML for further analysis.
Highly customizable
Extensive choice of configuration options allow deep customization of the form and each input field specifically for your purpose. Add field dependencies with the built-in conditional logic.
Multiple form types
Easily add surveys, questionnaires, multi-page custom forms, requests for quote, return merchant authorization, testimonials or just a simple contact form to your Magento 2 store.
Optimized for mobile
Adjust custom form layout for 3 common screen types: laptop, tablet, smartphone.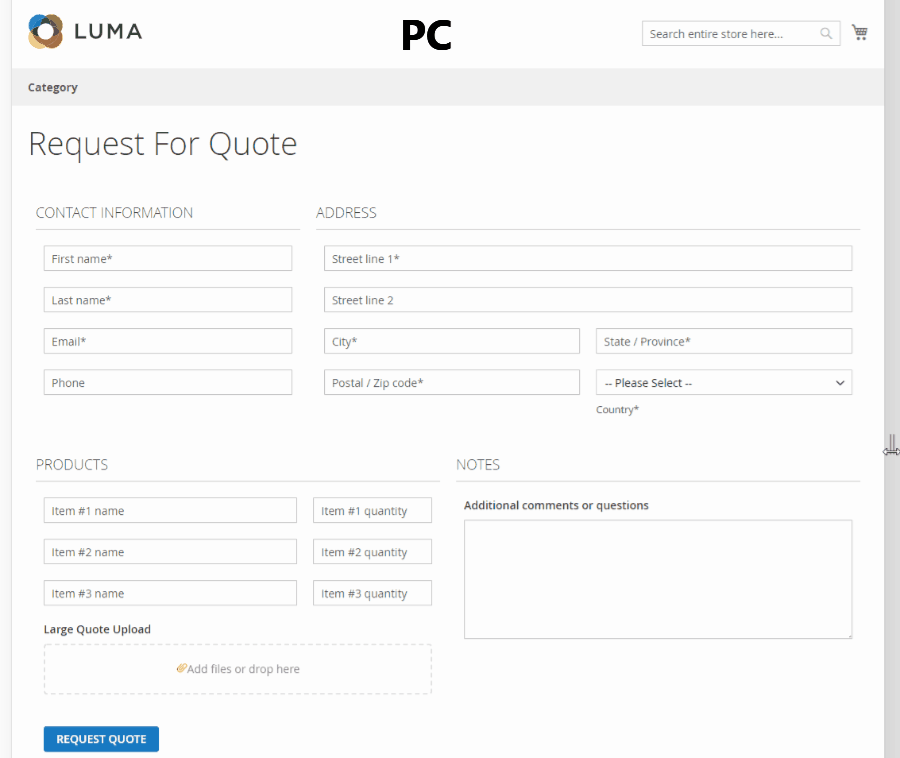 Each custom form has dedicated parameters section for every screen type.
Conditional logic
Show or hide custom form elements until customer makes certain choice.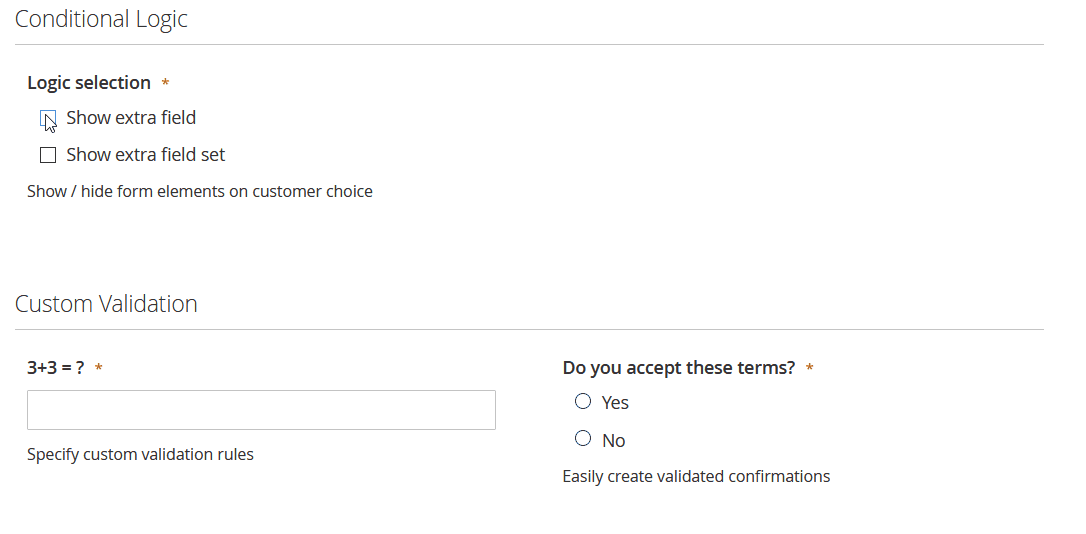 Multi-step forms
Break large custom forms into logical steps.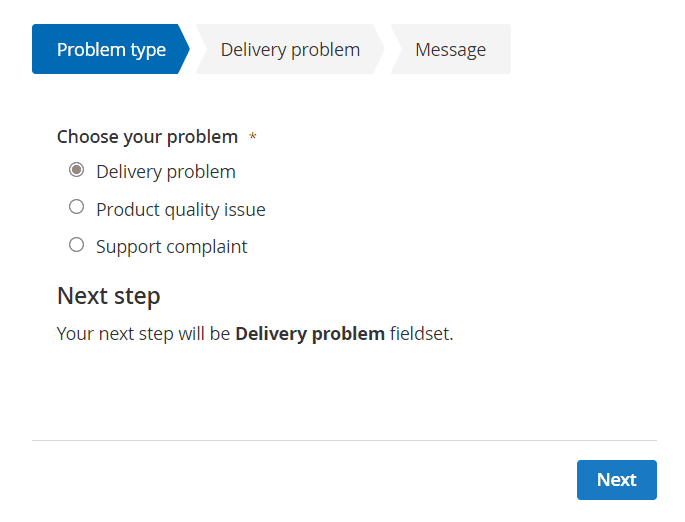 Add conditional logic to skip certain steps or show additional input page.
Pop-up forms
Place button to bring up the custom form when its required.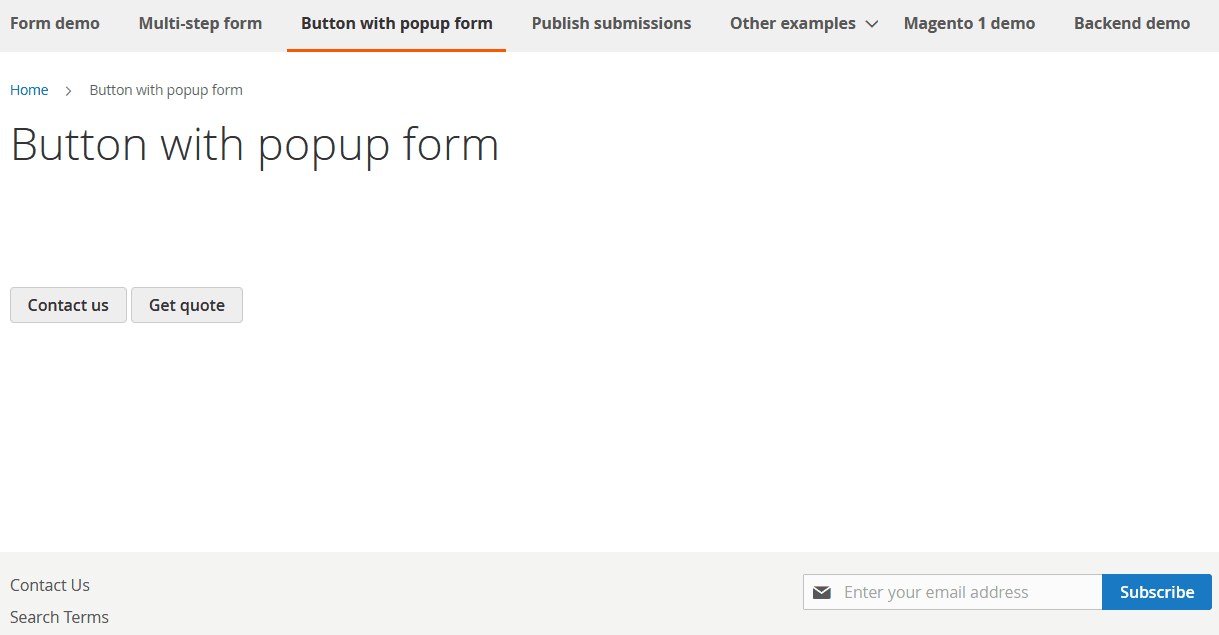 Slide-out form
Now customers can instantly contact you with the slide-out form on any page of the site.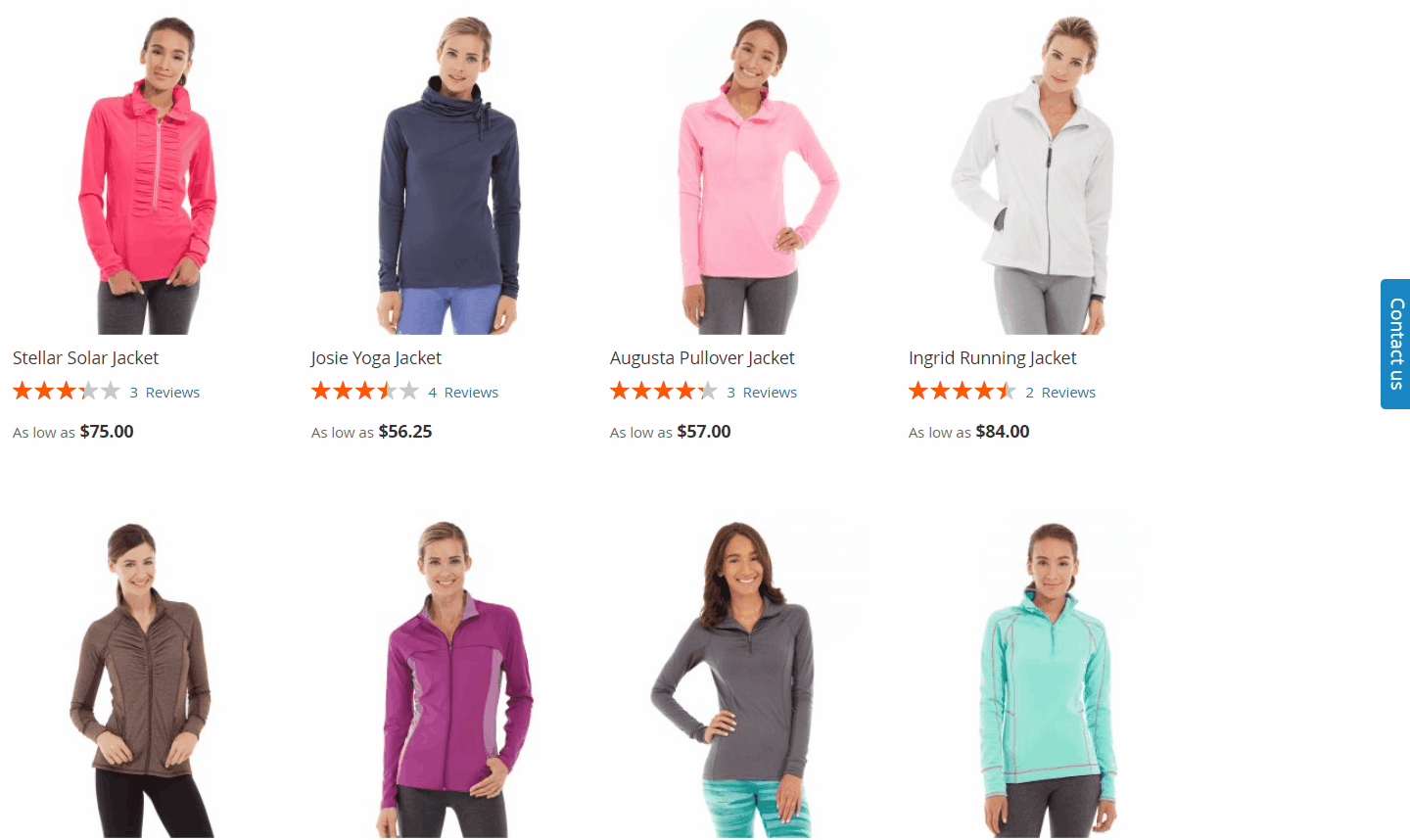 Pre-filled forms
Set initial data in the custom form.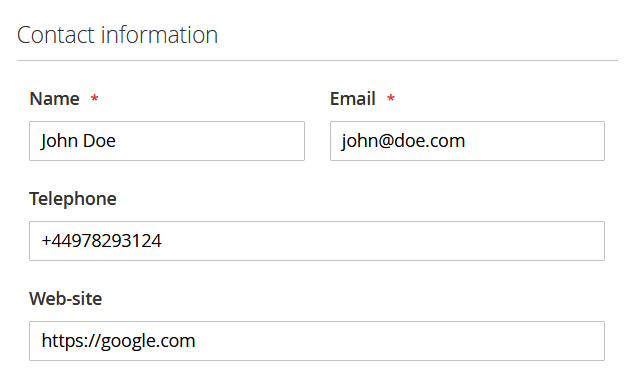 Pre-fill custom forms with current logged in customer data (name, email, address).
Use URL parameters to set field values. Example:
https://mystore.com/contacts?name=John%20Doe&email=john@doe.com
Use Hidden fields to store current product or category details.
Multi-language forms
Create custom forms in multiple languages.



Every custom form parameter and every element is fully translatable.
File uploads
Allow customers upload their files.

Use dropzone to upload multiple files at once
Limit allowed file types (for example: jpeg, gif, png)
Limit maximum uploaded file size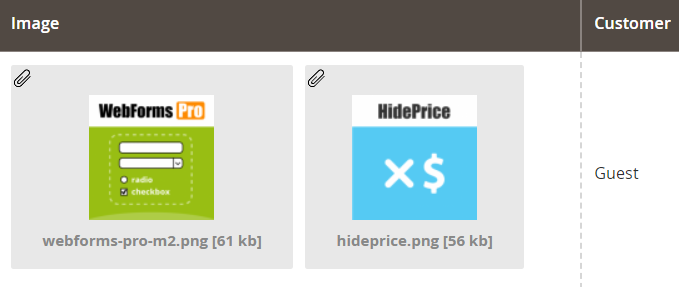 Browse files from admin panel
Resize large images on upload
Attach files to admin notifications
Files are stored securely (only allowed person can download them)
Form validation
Validate customer input.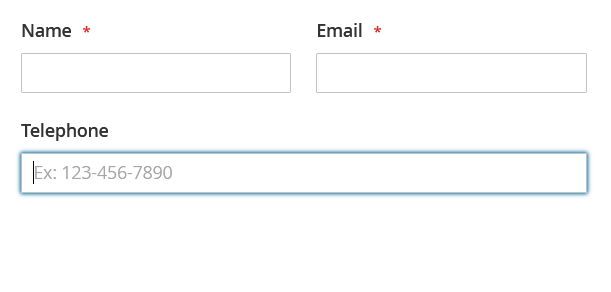 Use built-in validation to validate required fields
Use custom regular expressions to set specific validation rules
Use unique validation to check field against already submitted values (for example serial number registration)
Email notifications
Send custom notifications after submission.
Customer notification
Send customizable email notification or auto-reply to customer email address after submission.
Approval status notification
Change the approval status of the submission and send customizable notification to customer email address.
Admin notification
Send custom admin notification to admin email address. Add bcc configuration to receive email copy to specified address.
Conditional notification
Send email notification to email address selected by customer. This can be a department selection or subject related notification.
Result management
Manage submissions from the backend.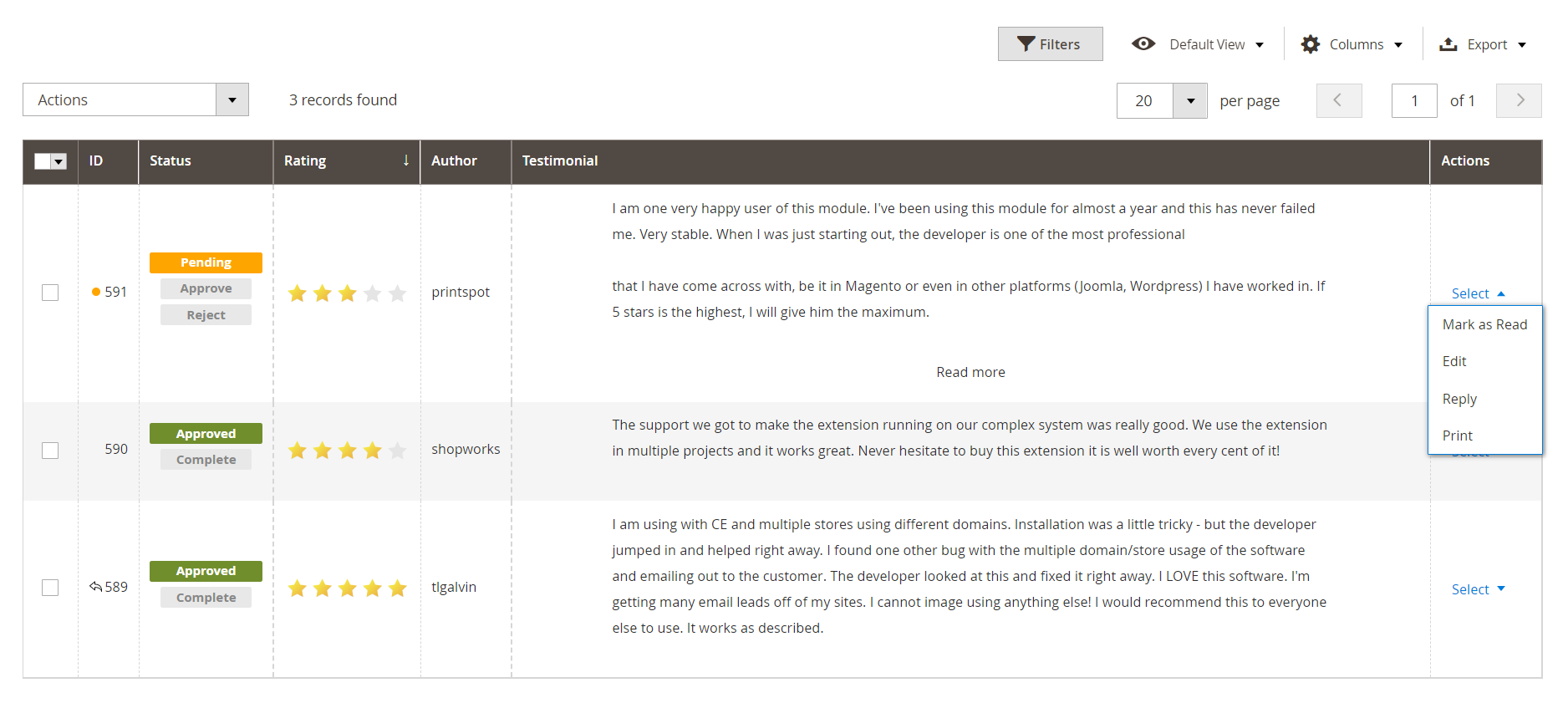 All submission data is stored in the database and you can perform all common operations from admin panel data grid:
Filter data
Create new submissions from backend
Edit / Delete submission
Approve submissions
Export to CSV / XML
Send e-mail notifications
Reply to submission
Generate PDF document
Approval system
Review submission results.

Use approval system to assign status to customer submission.
Configure gets email notification regarding new submission status.
Reply to submissions
Reply to customer submission from the admin panel.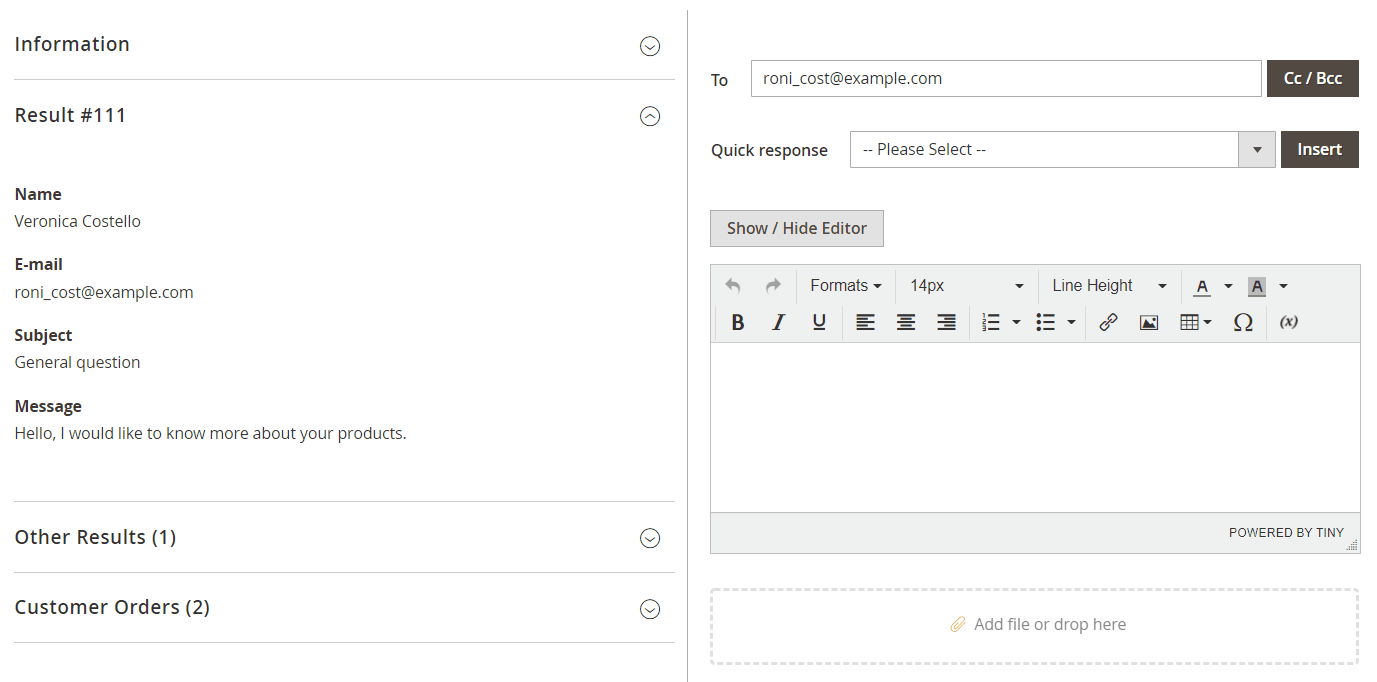 Convenient 2-column layout with tabs.
View submission source and other meta information.
Add Cc and Bcc addresses for multiple recipients.
Use quick responses for common questions.
Browse customer order history from reply screen.
See all other form submissions from the same customer.
Permission system
Regulate forms access.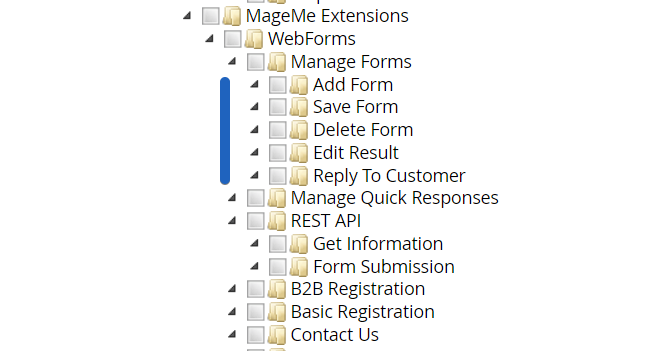 Admin access
Assign administrator role to access specific forms or the whole form management section.
Customer permissions
Limit customer group access to selected forms. Specify which actions they can perform with their submissions: view, edit, delete.
Publish submissions
Display submission data in the frontend.
Publish collected data on CMS page of your choice.
Use approval system to regulate which submissions you wish to publish.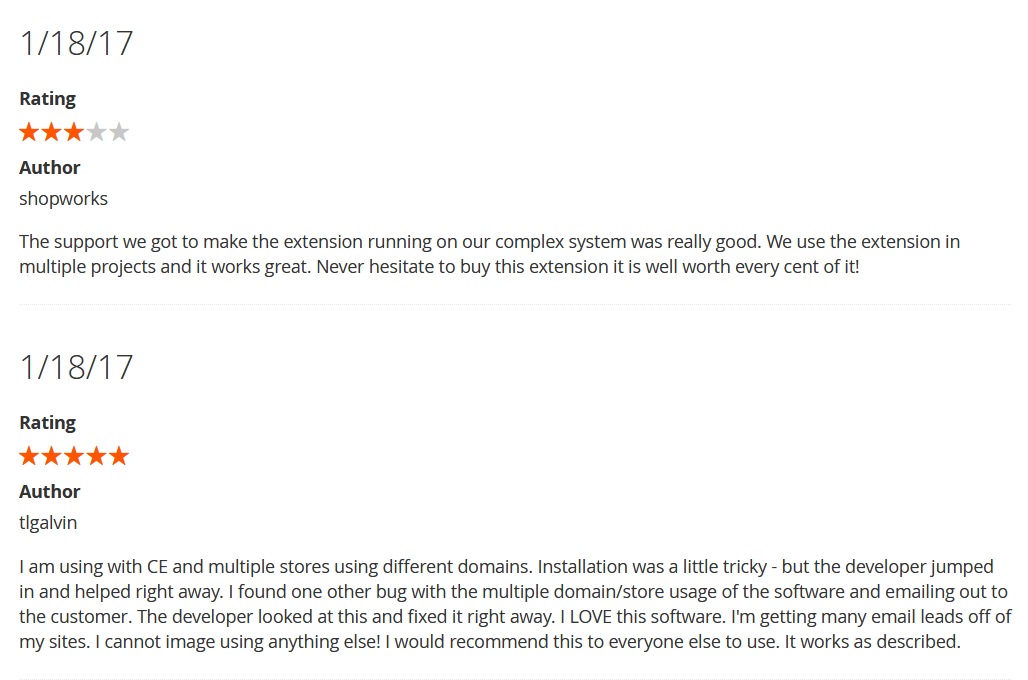 REST API & GraphQL
Integrate with the 3rd party software.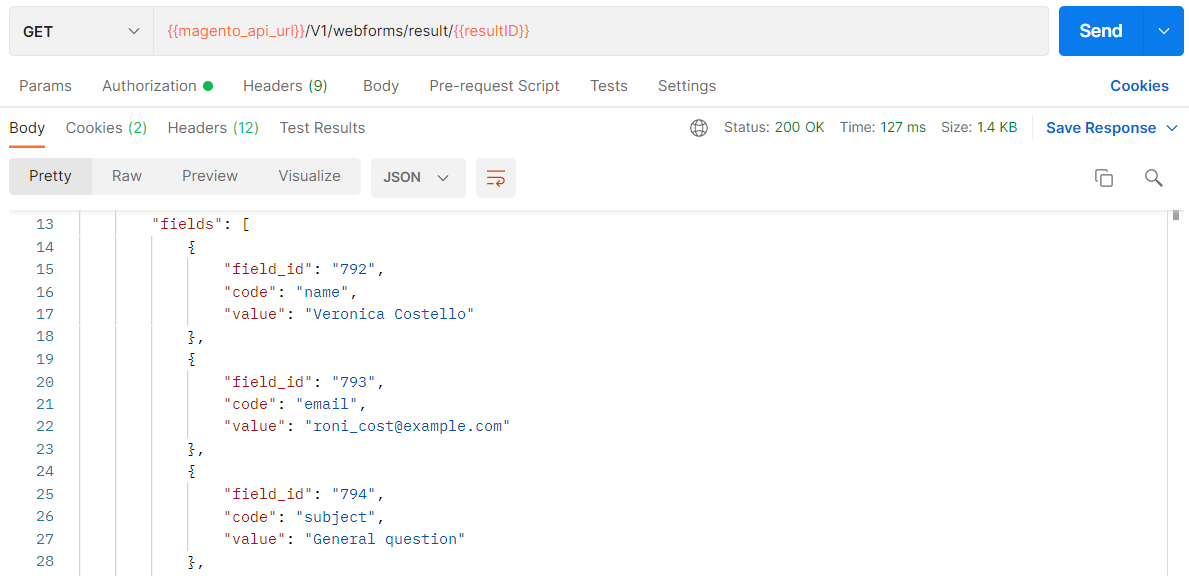 Get form information
Get all available form information such as name, code, description texts, configuration options, fields and fieldsets.
Submit the form
Submit the form using the REST API and GraphQL. You can save any kind of information including files and hidden fields. Its possible to update existing result too.
Get form results
Get the list of all form submissions together with the meta information and field data.
Get result by ID
Get individual result information with meta information and field data.
OTHER FEATURES
Form Export / Import
Transfer forms from one Magento installation to another using Export / Import functionality. Create form templates for your projects.
Spam protection
Protect your forms from spam submission by adding Google reCaptcha to your forms.
Easy installation
You have 2 options to install the plugin:
Use sFTP program to copy files from zip archive to your server
Use Composer to install package from our private repository
Easy integration
Use "Insert Widget" button to add form to any CMS page.
Use Content > Blocks section to add form to multiple site areas
Use XML code to add form through layout file
Use PHP code to insert form in phtml template
GDPR compliant
Our plugin meets all legal requirements and completely supports General Data Protection Regulation (GDPR) requirements. Add agreement text with checkbox and define personal data cleanup schedule for every form.
100% open source
The plugin comes 100% in open code and doesn't have any encoded or obfuscated files.
REVIEWS(6)
Some words from real customers.
Simple yet powerful

Installation is easy, just a few command lines and we're ready to go.
The product is very simple and intuitive to use. It is powerful and yet easy to customize for you needs.

Last but not least, I had an issue with my license for which I had typed an incorrect domain name (my fault) - the developer answered my mail within 5 minutes and corrected the domain. Great support!
Awesome Forms, Flexibility and Support

The forms are absolutely beautiful!
The flexibility of the extension is awesome.
The conditional logic, array of field types and possibilities for customization is incredible.
Generation of a PDF is a requirement, and it's met by this extension!
Vladimir provides excellent support quickly, with both advice and answers.
Perfect

I used M1 extension about 7 years ago (at least) and it was already pretty cool but now this extension is absolutely fantastic.
So far I was able to implement complex forms fitting exactly my customer's needs without having to override or extend a single line of code which was unlikely at the beginning. Although a cool feature would be conditional logic on submit buttons (as you sometimes need a different submit text depending on what have been chosen before) but other than that this is perfect.
Perfect Extension & Service is too good

If this ext. fulfill your need then don't hesitate to purchase.they are very quick to give you support. when I asked something outside of this ext. they try to support & never said sorry! this is outside of this ext. always they try to make you happy.
Amazing Extension & Super-Fast Support

Installed extension with documentation that was supplied on page with ease. Ran into a problem and had to contact support. Fixed the issue right away! Couldn't be happier!
Amazing Webform Extension for Magento 2

I found this extension a few months back when we were migrating our website from Magento 1 to Magento 2 and what an amazing extension it is!

I've never encountered such a straightforward, powerful and easy to use way of creating custom forms for Magento 2. Such a time saver and a really flexible extension.

I have to take time to praise the amazing support Vladimir provides and I only wish other developers were so quick to respond with solutions and advice.

If you want a great Webform for your site don't hesitate, just buy this extension and you won't regret it!
CHANGE LOG
3.0.3
Jan 24 2022
Fix: result filter performance greatly improved for extra large forms.
Fix: all text and hidden field value variables from v2 are working now.
Fix: disabling Use Unique IDs is working as expected now.
Other: small fixes and general improvements.
3.0.2
Jan 11 2022
Fix: result widget image size is now set from widget parameters.
Fix: conditional logic fixed for Contact field type.
Other: improved admin ui compatibility with other 3rd party plugins.
Other: small fixes and improvements.
3.0.1
Dec 27 2021
New: GraphQL support added.
Fix: customer account Add/View/Edit permissions are now more strict.
Fix: reply-to email address was not set properly on some forms.
Fix: customer result editing is not affected by FPC anymore.
Fix: enabling Magento translations is now applied to almost all text parameters.
Other: miscellaneous small improvements.
Frequently Asked Questions
Need a feature?
Let us know!